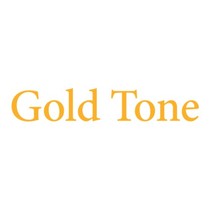 Gold Tone
Gold Tone embrace all music and musicians and whether you are a beginner, hobbyists, professional; fans of bluegrass, folk, pop, rock, or any genre for that matter.
Gold Tone is still run by its founders, Wayne and Robyn Rogers and the whole team work hard to ensure that every instrument that leaves our facility meets the highest standards quality and value. All Gold Tone instruments are designed in-house by Wayne and our luthiers and are not just another "off the shelf" or "me too" product.
The line up of Goldtone folk instruments extends from ukuleles, mandolins, resonators to the more wonderful and different Mandocello, Banjo Bass and Octave Mandolins!