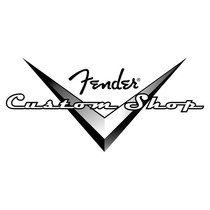 Fender Custom Shop
For thirty years, the Fender Custom Shop has been producing some of the finest guitars in the world. From vintage accurate masterpieces to special one-off designs, the only limit to what they can build is the limit of your imagination.
Based in Fender's state of the art facility in Corona, California, the Custom Shop employs artisan craftsmen to make guitarists' dreams come true. Whether it's a faithful replica of a much loved, hard-working '52 Tele, complete with wear 'n' tear, chips, dents, scrapes and scratches, or a '62 Sunburst Strat, as fresh as the day it was built, the Custom Shop have you covered.
They have also benefitted from the input of some of the world's greatest, most iconic guitarists. With unrivalled access to original instruments, the Custom Shop have produced 'chip for chip' identical tributes to some of the most revered guitars of all time - Eric Clapton's Blackie Strat, Yngwie Malmsteen's 'Play Loud' Strat and the battered, but incredible, Rory Gallagher Strat for example.
As well as the 'Tribute' range of instruments, the Custom Shop also produce signature models for countless guitarists, David Gilmour, Pete Townshend, Danny Gatton, Jeff Beck and Gary Moore to name but a few.
Offering craftsmanship, incredible attention to detail and instruments built with a personal touch, often missed in a world of mass produced, factory-made guitars, the Fender Custom Shop 'Dream Factory' offers something for every player seeking an exquisitely crafted, perfectly thought out musical instrument.
We at GigGear are very proud and excited to call ourselves a Fender Custom Shop Dealer and to help provide you with the very best of the very best.
Fender Custom Shop Blog Posts