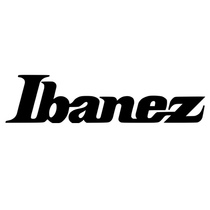 Ibanez
Ibanez is a Japanese guitar company that was established in 1957.
Ibanez design and build a huge selection of guitars, basses, guitar effects and amps and are consistently pushing boundaries with their designs whilst never forgetting their historical roots. Famous models include the Ibanez RG series, the Ibanez SR basses, and Tube Screamer pedals to name but a few.
Although appealing to all musicians across all genres with their mega star list of endorses that including Paul Gilbert, Steve Vai, Joe Satriani, George Benson and John Scofield to name but a few.
Ibanez have a particularly strong connection with the heavy rock market - Ibanez were in fact the first company to mass produce 7 and 8 string guitars.
So whether you play rock, jazz, funk or pop, we're sure you'll find a Ibanez instrument to fit your needs.