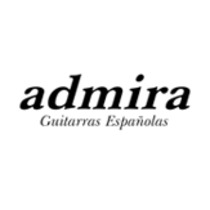 Admira
Founded by Enrique Keller Fritsch at the end of 1944 Admira Guitarras Espanolas manufacturer premium quality spanish and classical guitars with a model suitable for every level of player.
Spanish guitar builders are known for their lightly braced designs which give their guitars an un-muted tone with excellent response and as Admira approach their 60th year they certainly stick with this trend. Cedar tends to be the wood of choice for the guitar tops as the trees tend to twist less when growing making better tone woods however there are the Spruce topped Admira Avila and Sombra models if Spruce is your top of choice!
From the 3/4 size classical Infante to the full size Almeria beginners are able to to start their playing careers on a Spanish made instrument before progressing to the solid topped student models such as the Admira Diana. The Admira guitars range begins to grow rapidly offering many different choices of woods and appointments to satisfy the players individual tastes. Models such as the Admira Sevilla give a solid Cedar wood top with a full gloss finish while the Admira Capricho give a more open sound with its solid Spruce top with satin finish and Mukali back and sides. Many more models including the Soledad, Malaga, Solista, Sombra and the award winning Virtuoso finish of the upper student range.