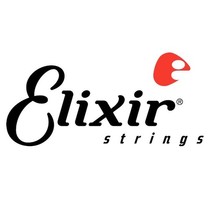 Elixir
Producing a selection of coated strings for acoustic, electric, bass, mandolin and banjo, Elixir set out to produce coated strings that can last 3 to 5 times longer than ordinary uncoated strings.
Two different coatings are available, both delivering the same extended life and consist of original Polywebs that generate a smooth warm tone with a more naturally played-in feel and the ultra-thin Nanowebs that produce a much brighter tone yet with a traditional feel.
Acoustic strings range from extra light .010 to .047 through to medium .013 to .056 as well as 12 string gauges and even baritone sets available.
Similarly with electric, strings range from super light .009 to .042 through to .012 to .068 baritone sets with a whole host in-between and furthermore 7 string and 12 string sets.
Bass strings from 4 to 6 strings are also accessible including both high Cís up to .032 and low Bís down to .135, standard sets range from .040 to .105 with a choice of various alternatives in Nanoweb coating.
Elixir Blog Posts
View All Elixir Blog Posts