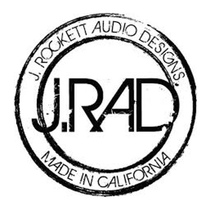 J Rockett
Created by long time session musicians Chris Van Tassel and Jay Rockett in 2006, J.Rockett Audio Designs are a US company from California that take their decades of musical experience and apply it to crafting great sounding, high quality guitar pedals.
Originally as a means to tailor their own personal tonal needs J Rockett Audio Designs realised that these pedals would meet the needs of many. After consulting top session players around the world today to construct their JRAD range the business partnership has gone from strength to strength.
Thanks to their super high quality components, unique heavy duty custom enclosures and critical attention to tonal detail and outcomes, J Rockett receive rave reviews across the board.
Highly accurate emulations of some of the worlds most sought after and expensive gear has given JRockett a prestige status in the pedal world with their Klon style 'Archer' Overdrive, Dumble Amp style 'The Dude' Overdrive and the Deluxe Reverb inspired "Boing" Reverb leading the line.