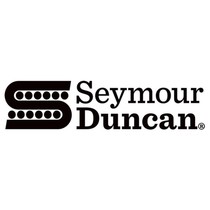 Seymour Duncan
With artists such as Mick Thomson (Slipknot), Slash (Guns N Roses, Velvet Revolver) and Synyster Gates (Avenged Sevenfold) all using Seymour Duncan pickups, it's no wonder they are one of the most popular and leading guitar pickup companies in the musical world! The vast majority of pickups are hand built in the Seymour Duncan workshop in Santa Barbara, California and these pickups range for electric, acoustic and bass guitars, available in both active and passive options as well as custom shop alternatives accessible if you are wanting a very specific sound.
Artist signature models cover many genres including Jerry Donahue's APTL-3JD for country and blues, Dimebag Darrel's Dimebucker SH-13 for heavy rock and metal as well as George Lynch's Screamin' Demon SH12 and TB12 for Classic Rock!
The Korean built Duncan Designed range are a cost effective alternative which were brought in in 1995 when the same great Seymour Duncan sound was needed for lesser money, these can be found in Squier, Schecter and Daisy Rock guitars.
Seymour Duncans ever popular Active Blackout series are designed for pro players wanting high output for rock and metal, these are even available for 7 & 8 string guitars which are perfect for extreme lows.
Then finally the "no fixing required" Woody HC is one of the most popular acoustic pickups purely for its ease of use when it comes to simply fitting it in and out of the sound hole when necessary and plugging it straight into an amp or PA system with its ¼" jack 14 foot lead.
The Seymour Duncan family ranges for every alternative and option no matter what style of music you are playing or, guitar you are playing it on. With a vast array spanning over 350 different models there will definitely be something to suit your needs.
Seymour Duncan Blog Posts