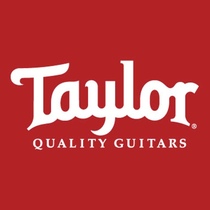 Taylor
Founded in 1974 by Bob Taylor and Kurt Listug, Taylor Guitars are one of the premium manufacturers of acoustic guitars.
Taylor Guitars have mastered the art of utilizing both old and modern acoustic guitar building techniques to create a range of instruments that are widely considered to be some of the best sounding, looking and playing guitars out there today.
Their range of models caters for players of all abilities, requirements and budget, with Taylor's legendary playability delivered at every price point.
Choosing the right size and shape acoustic is essential for any player. Taylor deliver five defined core body shapes to cater for this, with unique dimensions and tonal personality produced by each.
Grand Concert Body (models end in a 2 i.e 712ce) - Smallest body size and a great option for the fingerstyle, intimate player.
Grand Auditorium Body (models end in a 4 i.e 314ce) - Taylors signature shape, a great all purpose guitar.
Grand Symphony Body (models end in a 6 i.e 816ce) - Slightly larger than the Grand Auditorium, great for strumming with a rich voice.
Dreadnought Body (models end in a 0 i.e 510e) - The classic shape that delivers big lows and good mids. Great for strumming and flatpicking.
Grand Orchestra Body (models in an 8 i.e 618e) - Taylors largest body shape that delivers a powerful, complex voice.
Taylor's range includes the Baby Taylors, the Academy Series, the GS Mini family and then through the 100, 200, 300, 400, 500, 600, 700, 800 and 900 Series, with designs, specs and materials varying as you go up through the range.
Whether you want a straight acoustic, an electro acoustic, a travel guitar or a great quality beginners guitar, Taylor will have something to suit.