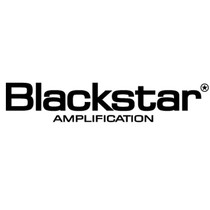 Blackstar
Started by four friends in 2004, Blackstar Amps have come a long way in such a short time. Their dream was to create new and innovative guitar amplifiers and pedals that would be the ultimate tools for self expression. After 2 years of extensive research and testing, Blackstar finally had the first line of products and were officially announced at Frankfurt Musik Messe in March of 2007.
Ranging from tiny 1 watt valve combos up to 200 watt stadium rigs, Blackstar have every corner covered with a choice of heads, combos and cabinets with patented features such as the ISF (Infinite Shape Feature) making tonal ranges go even further than just your standard EQ. The simplicity of the hand wired Artisan range takes you in one direction with classic British tone whilst the ID series takes you in the opposite, with 6 valve power, voice and built in multi-effects to give you endless options in the studio or on the stage and really bringing the slogan "the sound in your head" to life.
The Blackstar HT range has been a huge success and has expanded ever since the HT5 model was introduced – looked upon as the ideal small valve amp for the studio, home use and small rehearsals. The Blackstar HT range was revamped in 2017 with the launch of the HT MkII range.
Blackstar are also one of only a handful of companies in the valve driven pedal market which offers a choice of drives, boosts and modulation -all driven by valve! Artists include Paul Allender (Cradle Of Filth), Mike Lewis and Lee Gaze (Lostprophets), Billy Lunn (The Subways) and Richie Sambora (Bon Jovi) Dean Richardson and Tom Green (Heights) and Ben Martinez (Jessie J). Really proving that Blackstar appeal to every genre and style of player.