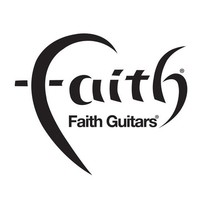 Faith
Faith guitars are beautifully designed by renowned luthier Patrick James Eggle and feature all solid tone woods and meticulous attention to detail. Patrick has added many of his unique guitar building techniques to the Faith guitar range including quater sawn bracing and his patented bolt on neck design which, added to the all solid tone wood construction, make for a series of guitars that deliver great tone and playability.
There is a range of Faith Acoustic Guitars – the Faith Natural Series (satin finish back and sides), the Faith Hi Gloss Series (full gloss body) and the Faith Eclipse Series (black lacquer finish). All of these guitars have an all solid wood body construction, Ebony fingerboards, Shadow electronics (where applicable) and come with a fitted hard case.
Faith have recently added the Faith Naked series - a no nonsense series of acoustic and electro acoustic guitars which feature a breathable satin finish and all solid construction.
Not only is there a range to suit every requirement and budget, but body styles come in a number of options too – the Faith Venus Grand Auditorium, the Faith Saturn Dreadnought, the Faith Jupiter Jumbo, the Faith Mercury Parlour and Faith Neptune Mini Jumbo.
By Russell Dodd
Faith Blog Posts
View All Faith Blog Posts