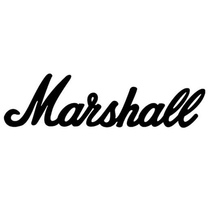 Marshall
In 1965 Marshall Amplification were producing just 40 amplifiers and 100 cabinets per week and were unable to fill the growing demand for their products. The appointment of a distribution company was the solution and demand grew even faster until the world was demanding so much Marshall, a move to larger premises was needed. Marshall amplification export sales rocketed, fuelled by the success of British bands abroad. During the 1960's, Marshall was the back-line of choice to some of the the most influential guitarists and bands of all time such as Pete Townshend with The Who; Eric Clapton with his distinctive Bluesbreaker tone, and then with Cream; Ritchie Blackmore and Jimi Hendrix.
Marshall Amplification is arguably the most renowned electric guitar amplifier brand in the world with an extensive catalogue of electric guitar, acoustic guitar and bass guitar amplification. Much of their classic range of amplifiers including JCM800, JCM200 DSL and TSL series along with the newer Mode Four, Vintage Modern and the acclaimed JVM series are built in Milton Keynes - England.
The superb Marshall MG Series amplifiers bring a professional sound and quality with an ultra affordable price tag, while the digital / valve hybrid Marshall JMD series bridges the gap between old and new. Bass guitarists have a huge choice of bass amplification for any application from the Marshall MB series right up to the Full valve Marshall VBA400 bass head and VBC cabinets.
For the acoustic guitarist, the popular AS50D and AS100D acoustic guitar combos give versatility and finesse to any performance. Completing the range is Marshall's range of affordable electric guitar effects pedals such as the Marshall Guv'nor, Jackhammer, Bluesbreaker and many more.