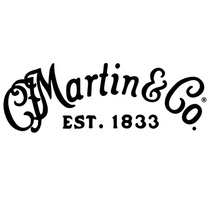 Martin
Founded in the USA back in 1833 by Christian Frederick Martin Sr, C.F. Martin & Co boast over 180 years of guitar building experience. A business run with tradition, quality and pride at it's heart, Martin instruments have now obtained an unparalleled reputation when it comes to well crafted acoustic instruments. 
As pioneers of  "X-bracing, the "14-fret" guitar and the "Dreadnought" sized body innovations that have been replicated and copied by almost every guitar manufacturer in the business, CF Martin have revolutionised and shaped the acoustic guitar market many times throughout the decades and continue to innovate and improve their vast range of special instruments. 
Martin products can be heard on countless recordings across endless genres and have even been adopted by legendary artists such as Elvis Presley, Paul McCartney, Eric Clapton, John Mayer, Johnny Cash and more.