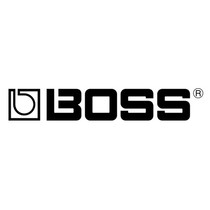 BOSS
Founded in 1973 by the Roland Corporation, Boss are a manufacturer of compact and twin pedals, multi-effects and loop stations as well as digital studios for recording and rhythm machines. Originally being produced in Japan until around 1990 when production moved to Taiwan where the simplistic design has remained unchanged for over 25 years! With pedals ranging from  distortion, overdrive, reverb, delay and a choice of modulations including: flanger, chorus, phasers and tremolo as well as acoustic simulators, wah, EQ, octave, pitch shifters and acoustic simulators, there is a huge array of pedals for every need.
A selection of Boss pedals include "COSM" (Composite Object Sound Modelling), a feature which naturally emulates the sound of the instrument, amplifier, air and reverberation of the room, this can then turn the likes of an acoustic guitar into the sounds of an electric. Boss have even done collaborations with the likes of Fender to reproduce classic amp and reverb sounds from the 50's and 60's.
Also featuring a whole host of digital recorders ranging from portable pocket sized 4 tracks up to 16 track home studios with built in effects and a CD burner, these systems can cater for demos on the fly or high quality CD recordings.